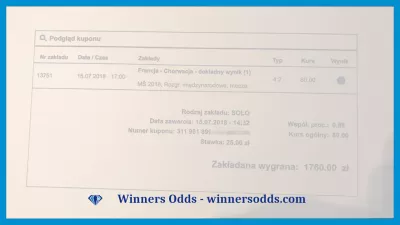 ---
---
With bettings points all around Poland, a betting website and apps available for Android, iOS and Huawei, STS is one of the major bookmaker in Poland.
They are concentrating on sports betting, with pregames bets, live bets, and virtual or esports bets, and are slowly getting in the online gaming and online casino world.
But how good are their services? Let's check it in detail together!
STS brick-and-mortar betting points
With various premises in many Polish cities, the STS betting points are usually organized similary, with a better desk, various screens with current sports events, with tablets on which you can plan your bets, mostly Polish ones and big international competitions, and a few betting machines.
However, they are typically open during standard business time, including weekends, and might not have their doors open for live betting during international events in other timezone, such as American football NFL, National Hockey League NHL, or other similar events, like the upcoming Tokyo olympics.
Tokyo 2020 Olympic Games – Information And Report To Tokyo Olympics 2021
Nethertheless, you can bet in advance on their whole sports catalog, and come back at any time to exchange your winning betting tickets for cash.
We generally do not enjoy visiting their premises, as it might be crowded and loud, which is not always a nice environment to concentrate on your bets and think about the best winners odds for the upcoming sport events.
2021 World Sporting Event Calendar
STS Website betting site
The betting website is generally pleasant to use, and allows for both pre-games bets and live bets, it is often difficult to find the bets you like.
On sports events especially, just like anywhere with STS bookmakers, it is quite complicated, if not impossible, to create combined sports bets, and some advanced betting options usually available at other bookmakers are missing.
However, a simple website to use, and if you are creating an account online, you can generally benefit from a welcoming bonus, which might change over time.
When we did register, they offered to top up a first deposit of up to 1200PLN with a bonus deposit of the same value.
Bonuses for STS accounts
The bonus account however, cannot be used for cash withdrawal, until it has been fully lost three times. In other words, you must have spent 3600PLN with bonus account only to be able to get it back as cash, in which case it will be automatically transfered to your standard betting account.
STS mobile betting apps
The STS mobile apps are probably the most convenient ways to bet on sports online, and especially to do live bets.
The look and feel is similar to what is available on the website or in store, and is pretty simple to use.
However, with constant updates that require manual action, to download, install and relaunch the app, it deteriorates the betting experience, as it might happen at any time, and make you lose your current progress.
Similarly, the mobile app navigation is not fluid, and it is not always possible to understand what is happening. Some actions are not taken in consideration, and trying to go back from one screen to the previous one just takes the user back to the home screen, at the beginning.
Very frustrating when you have to navigate in the sports type menu to find your favorite sport to find your match and winning odds on your team... to have to do it all over again when you try to get back to the matchs list for another bet.
However, the application is simple to understand, and is working well enough for most standard sports bet.
STS bookmarker review in short
Overally STS is a reliable bookmaker with good odds, comparable to their competitors, and is a good option for sports bets in Poland.
If you are not located in Poland, you will need to use a VPN simply to access your account, even if you have a genuine Polish connected account and credentials. If that is your case, we recommend you to get such connection to appear like you are in Poland, even if you are not. We used RUSVPN to connect to STS with a Polish server on Android smartphone and had no issue placing bets during the football Euro 2021 from France.
Best VPNs for online betting in Poland
We recommend betting online, as their physical locations might not be the best place to concentrate on winning odds.
★★★⋆☆ STS (Star-Typ Sport) Review: Polish Sports Bookmaker With convenient physical locations, apps, website, and good odds, it is a good option for sports betting in Poland. However, as the app is geo-limited to Poland and their shops are crowded and noisy, it might not fit everyone's needs.
---
---
---