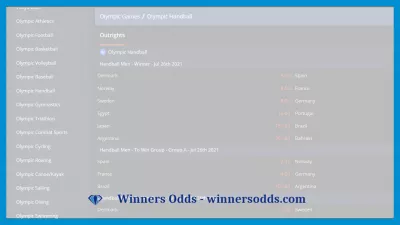 ---
---
The Olympic Games were supposed to be held in Tokyo in 2020, but the pandemic has made its own adjustments to these plans, and the games were postponed until the summer of 2021. It is a mistake to think that these are the 2021 Games, since Tokyo refused to change the 2020 symbol for the Olympics.
Which teams at the Summer Olympics look more representative
According to numerous forecasts from professionals in the business of betting on sports events, it becomes clear that five or six teams will participate in a serious struggle. A team is a country. The teams that brought more athletes to the games will compete for the sweet prize places. Such countries at the Summer Games will be Russia, France, USA, China, Australia, Great Britain and Germany.
It is the teams listed above that will participate in athletics, water and team sports. Therefore, expecting an easy rivalry is not exactly worth it.
How to Catch the 2021 Olympics Live At the Comfort of Your Home
Best VPN for Olympic Games
What medals do some team countries expect?
Winning predictions vary from team to team, but what are the participating teams expecting? For example, Poland expects to receive medals in two directions: handball and athletics. Naturally, in every sport represented at the Olympics there are certain leaders, sudden events can occur and in general all forecasts change at the very last moment.
For example, the leaders in the athletics discipline are the USA, Russia and Germany. But do not forget that Africa also participates in the games, and its athletes love to surprise with their unpredictable results.
As for the disciplines of water sports, there are also leaders among some teams: the USA, Australia, Germany and Russia. However, at these Olympic Games, they will face a rather serious opponent - athletes from South America and Asia.
What about betting on this event?
Betting, especially on events taking place at the Olympics, is a rather unpredictable event; it is always a high-quality long-term analytics. In this case, the analyst is considered by teams, by disciplines, by the overall medal standings at all previous Olympic Games. However, as mentioned above, the Olympics can be a rather unpredictable event, and one must be careful with the rates, make them deliberately and carefully.
Overall medal score betting: which teams are most bet on by this criterion
As you might guess, these are Russia and the United States. For a long time before the start of the Olympics, it was possible to bet on the following events:
How many medals will each country receive in general? Before the start of the Olympics, the USA was the leader in this condition - users are sure that their team will bring 112 medals in the overall standings.
How many of all these medals will be gold for each country. It was also the leader of the United States, users believe that the country will win 46 gold medals in the competition.
In addition, it was possible to place bets on only Russia. What could you bet on?
First, of course, it was possible to bet on the total number of medals that the Russian team would win.
Secondly, separately it was possible to bet on what dignity the medals earned would be - how much gold, silver and bronze the athletes would receive.
At the same time, the Russian sports committee assumes that the country will win only fifty medals of various denominations. For comparison, during the last Olympics in Rio, Russia won 56 awards of various denominations.
Team sports
The Olympic Games in Tokyo provide for competitions in eleven team disciplines, including field hockey.
Twenty sets of awards for men and women will be played in team disciplines.
Some bookmakers give the following rough predictions for team sports:
In the discipline women's handball the French team will take gold;
In the discipline women's volleyball the Russian team will not be able to win a single medal.
Olympics Sports List
Rackets and rapiers
This category includes such sports as badminton, fencing, saber competitions. Twenty-seven sets of awards - for men and women - will be played for rackets and foils.
Bookmakers advise beginners to bet on tennis as it is a more popular sport than others in this category.
If we talk about fencing, then you can place bets on such cases:
Who will win the entire tournament;
Who will take the top lines in the tournament
Who will be in the top three, top five, top ten according to the results of the competition.
All you need to know about fencing – Olympics
Pool and open water category
Water sports are quite popular during the Olympic Games. 89 sets of medals will be drawn: according to tradition, men and women, team, different classes, different distances, different heights.
As for sailing, rowing and ordinary swimming, in addition to standard betting options, bookmakers have added some nuances, since all these sports are tied to speed. What can be additionally bet on in these sports:
The most popular parameter is the time of the winner;
The second most popular option is whether the world or Olympic record will be updated;
The third option, which the bookmakers offer, is the gap between the winner and the second place.
As for diving and synchronized swimming, since these sports are assessed by the judges, bookmakers allow betting in general terms - who will enter the top three, five or ten leaders.
Kayak trip in Gamboa rainforest on Gatun lake
Open Water at the Olympics | Swim England Open Water
Carpets, tatami, rings
These sports are usually the most awarded at the Olympics. The Tokyo Olympics this year was no exception - 62 sets of awards will be played, among which there will be both women and men, and depending on the weight categories.
In the first couples, it will be possible to bet on the box only on the winner, but as you progress through the competition, bookmakers will add a list. And as for wrestling and similar sports, since they are not as popular in games as boxing, they will not receive a wide variety of paintings.
Athletics is the most popular sport
Athletics and weightlifting will be represented during these Olympic Games in Tokyo. 62 sets of awards will be raffled off - traditionally for men and women, as well as team sets.
Despite the fact that athletics is the most popular sport at the games, it is difficult for bookmakers to come up with long and interesting paintings, so everything is about the same every time. This year it will be possible to bet on:
Who will win;
Who will be in the top three or five;
World record or Olympic record will or will not be broken.
Since there will be no spectators at the athletics competition in these Olympic Games, or there will be as few spectators as possible, it will be very difficult for the lagging teams to fight their way to victory, since there will be absolutely no support from the stands. Before betting on athletics, it's worth examining the clear favorites in the sport.
Artistic and rhythmic gymnastics
A total of 16 sets of awards will be played this year - for men, women and team assignments.
In rhythmic gymnastics, there is an undeniable favorite - Russia. But in artistic gymnastics, it is better to study analytics, since each athlete has a favorite apparatus.
Cycling
Even such a sport as cycling is represented at the Olympic Games. It includes three disciplines - mountain bike, BMX, road and track racing. Twenty-two sets of awards will be played here, according to tradition, among women, men and teams.
Before betting on any category of cycling, you should know that there is such a direction as bmx freestyle. There is no need to overtake anyone here, since the assessment is given by the judges, the athletes will perform a variety of trick elements. Here, how famous the participant is will play a role.
Tokyo Olympics: Women's Road Race - Cycling News
Shooting
There are two disciplines at the Olympics - shooting and archery. Twenty sets of awards will be drawn - for women, men and for the team competition. Bookmakers offer several types of bets:
First, you can bet on a winner;
Secondly, you can bet on who will be in the top three and top five;
Thirdly, it will be possible to bet on how many points the winner will come off second place.
Shooting | Olympic Sport | Tokyo 2020
Horseback Riding
This sport has been present in the Olympic program since 1900, so it can be considered traditional. Six sets of medals will be awarded for various sports.
Bets can be placed on riders and their horses. In order to correctly navigate the odds, you need to look at the statistics on past Olympiads and determine the favorites, then the bets on equestrian sports will not be in vain.
Equestrian at the Summer Olympics – Wikipedia
Triathlon and pentathlon
In the upcoming Olympics, five sets of triathlon and pentathlon awards will be played out, traditionally among women, men and among mixed competitions.
In this direction, you need to select favorites in certain areas, for example, shooting or swimming, and based on this information, make a bet. It is better to do analytics on your own, since bookmakers do not always know exactly who will be the favorite.
Golf, rock climbing, skateboarding
In these areas, only eight sets of awards will be drawn - among men and among women.
As for betting on golf, it is difficult to determine the favorite even for bookmakers, therefore, a very high coefficient is given to the winner, and users, in turn, do not understand who to bet on.
As for skateboarding and rock climbing, it is very easy to conduct analytics here - which slopes, who is the favorite, and whether there are Japanese among them.
Skateboarding history
In conclusion: Olympics Betting Tips
Competitions, where athletes from various countries participate - big and tiny, rich and very poor - are important for mutual understanding and mutual respect of the inhabitants of the entire planet. Anyone can win the games, even those living in a remote poor state.
This is a very popular event that attracts millions of people every time. Therefore, it is logical that many people want to make money on this. And bet Olympic Games is a great option for your sports income.
Thus, at the 2020-2021 Olympics in Tokyo, only 339 sets of awards will be played in thirty-three sports. Betting on the Olympic Games online is very attractive for users, however, before placing bets, sometimes it will be necessary to familiarize yourself with the statistics of previous games, by the athletes themselves, to find out what they are. This is a rather painstaking work, but the reward for such work will be justified - the bet placed can play at a very favorable coefficient.
---
---
---